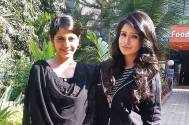 Zee TV's Kaala Teeka (DJ's – A Creative Unit) is presently focussing on the post-marriage drama wherein both Kaali (Simran Pareenja) and Gauri (Fenil Umrigar) have ended up marrying Yug (Rohan Gandotra).
Now, there will be a 'Sindoor Daan' havan conducted by Dadi for the good future of Gauri. And Dadi will convince Yug to put sindoor on Gauri's forehead as part of the custom in the havan proceedings.
However, Kaali will corner Dadi by saying that like the last time, they will need to have the curtain separating the boy and girl. And Kaali will make sure that Dadi's plan of Yug putting sindoor on Gauri's forehead will fail.
As per sources, "Dadi's vision will be blocked with the curtain separating Yug and Gauri. And just as Yug will bring the plate of sindoor near Gauri, Kaali will put the fan and the sindoor from Yug's hand will get smeared on Kaali's forehead."
Also, the next drama that will follow will be that Kaali will get a solid proof of her getting married to Yug when Manjiri (Daljiet Kaur) will hand over a photo of their wedding to Kaali. With the proof, Kaali will almost win the trust and love of Yug, when Gauri will play yet another game.
Will Kaali succeed in winning Yug's love?
We tried calling actors concerned, but could not get through to them.
Watch this space for more updates.