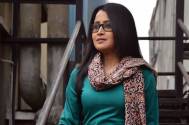 Shampa Banerjee, who essayed leads in serials like Colors Bangla's Shesh Theke Shuru and Rupashi Bangla's Bodhua , says she is excited to essay the role of a crime journalist in Aakash Aath's new soap 'Satyamev Jayate'.
"I had always wanted to raise my voice against all the grave issues of our society. However, my soft and shy nature had stopped me from doing so. Now, that wish of mine will be fulfilled via this serial,"
She added, "I am excited to play the role of a hard core crime journalist for the first time in my career."
Based on investigative journalism, Satyamev Jayate is the story of a simple girl Srimoyee Banerjee (played by Shampa), who runs away from her house to fulfill her dream of becoming a crime reporter.
Through her character, the soap aims to reveal the real faces of crime in front of truth. As the story proceeds, issues like child labour, women trafficking and killing of female fetus will come up.
Srimoyee's journey will not be an easy one. She will have to fight against all odds, threat of life, threat of extrication from society. There will also come a time when she will have to choose between her family and profession.
How she will deal with these issues is for the viewers to find out.
When quizzed how she prepared for the role, Shampa quipped, "Watching the news channels have helped me a lot to understand the body language of the journalists."
"We all are very excited and are looking forward to catch the serial in the evening. We have requested the production team to warp up today's shooting as early as possible," she signed off.
Directed by Arindam Basu, it also stars actors like Buddhadev Bhattacharya, Dipankar Dey, Mou Bhattacharya, Ayush Das, Siddhartha Ghosh, Partho Santra, Priyam and Krishnakishor Mukherjee,
The serial will start from tonight (14 March) airing every Monday to Saturday at 9 pm.