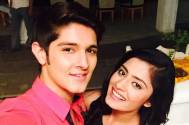 Star Plus' popular show Yeh Rishta Kya Kehlata Hain (Director's Kut) has been engaging viewers with the highs and lows happening around the happy ambiance of Naksh (Rohan Mehra) and Tara's (Umang Jain) wedding.
Recently, we wrote about Naksh's near-to-death moment when he got caught in an over-pouring heap of wheat grains. The good news is that Naksh will eventually be saved, and the happy moments will be back.
However, the coming episodes will see the exit of Sanju (Vaishali Takkar), Naksh's close friend. However, she will go out only after having a face-to-face conversation with Tara.
As per sources, "Tara who has been jealous of Naksh and Sanju's relationship will eventually decide to fight for her man. She will burst out at Sanju, wherein she will clarify that she does not want any girl coming in between Naksh and her closeness. Sanju will immediately realize Tara's emotional trauma and will decide not to be a thorn in the relationship. She will cite family problems and take her leave, even before Naksh's wedding would happen."
Also, the makers will work out a track revolving around the pre-nuptial agreement on the show. Yes, the system which is commonly in vague in the West will be implemented in Yeh Rishta.
The track will see Tara's friends having a doubt over whether Tara would be able to continue her hockey aspirations even after her wedding. Tara would be on Cloud Nine on hearing that she has been selected in the Asian Games hockey team. And her friends will try to talk it out to her that she should make use of a prenuptial agreement, wherein she will put the clause that she will continue taking forward her sports ambition even after her marriage. Even though Tara will be against it, her friend Preeti will get an agreement made and will give it to Tara to act and get a firm footing for herself after marriage.
Will Tara make use of the prenuptial agreement?
If sources are to be believed, the news of such an agreement being made will soon reach Naitik (Karan Mehra) and Akshara's (Hina Khan) ears, and they will be shocked.
How will Naksh react to signing the papers?
We tried calling the actors concerned, but did not get through to them.
Watch this space for more updates.