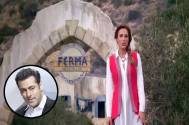 Bollywood superstar Salman Khan, who is rumoured to be dating Romanian TV presenter Iulia Vantur, promoted her new show "Ferma vedetelor" over social media.
The show is an adaptation of internationally acclaimed reality show "The Farm".
Vantur, who is returning as a host of the show for its second season, posted a video of herself on Instagram in which she can be heard speaking in Romanian. In the caption, she wrote that the show starts on Wednesday.
Salman, who is reportedly planning to host the Indian version of the show, took to Twitter on Wednesday to share the same video of Vantur.
"Samaj mein aaya? (Did you understand?)," Salman wrote in the caption.
In another tweet, he wrote: "The show I've been wanting to do for longest time. It's like 'Bigg Boss' but on Farm. So many things you can do with this".