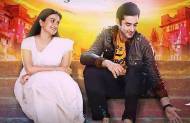 Drama alert!!!
Recently we  reported about Sagar (Vishal Vashishtha) confessing his love to Gangaa (Aditi Sharma) in &TV's social drama Gangaa (Sphereorigins).
Now, the man will take a very crucial step of his life when he will decide to marry Gangaa.
Yes, the episode that will air soon will see Sagar getting married to Gangaa.
A source states, "The family would be planning Sagar's wedding. Madhvi (Gungun Uprari) will ill-treat Gangaa for the recent incidents that occurred between them. Sagar, upon witnessing the same would get furious with his mom. In anger, he would put sindoor on Gangaa's forehead to bring back respect for her."
Furthermore, this shocking decision will leave Madhvi and Ammaji (Sushmita Mukherjee) stunned. They would slap and beat Sagar for his decision. Sagar will tightly hold Gangaa's hand and refuse to leave her. Madhvi will even try to blackmail Sagar by attempting a suicide.
Will the family accept Gangaa as their bahu?
We tried contacting Vishal, but he remained unavailable for comment.
Catch this interesting turn of events in Gangaa soon.