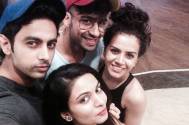 One doesn't really make friends quite easily and when they do, it is definitely for lifetime!
The saying truly goes for the young team of the popular series Paanch (Sunshine Productions), that aired on Channel V.
The show might have gone off air long back, but the bond that they formed together is still going very strong.
And last night the team got together for a fun filled time and enjoyed a super reunion.
The young actors Pratap Hada, Rashi Mal, Aashish Mehrotra and Aakanksha Malhotra went out to watch Jurrassic World and then chilled out recalling their fun moments that they spent on their show's sets.
Said Pratap, "Since most of us debuted with this show, we have a very special relation with Paanch. Also we bonded really well and have been in constant touch throughout. It is really nice to see that co-stars have become such great friends. Although by the grace of god, most of us are keeping busy with projects, we took some time off to meet and it was really an amazing time."
Echoing Pratap's views, Aashish added, "I feel proud that I found such great friends in Paanch. We make it a point to catch up often so that we can revisit our good old days and recall our wonderful time. We met after a long time and it was one super cool outing. Hopefully we will soon meet with the whole gang and have a bigger and better reunion."
Till then we say keep the love going guys!!!