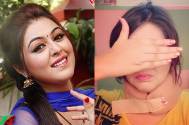 SAB TV's Chidiya Ghar (Garima Productions) actors are known for its unique animal characteristics. The very pretty and serene Shafaq Naaz who plays the role of Mayuri in the show is in immense pain these days.
The pretty girl who is always spotted dancing and moving her neck beautifully like a peacock has been detected with spondylosis.
Shafaq shared, "In a day I have to move my neck around 70 to 80 times due to which I have got severe spondylosis. My doctor has asked to take rest for few weeks until its gets healed. I have been shooting currently but after my pack up I go for physiotherapy every day."
She added, "The pain is escalating and now my entire back is aching. My body needs rest so let's see how things shape in coming days."
Take care Shafaq!