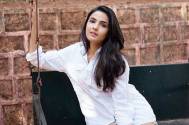 After the grand launch of Ek Tha Raja Ek Thi Rani, Zee TV has come up with another interesting daily, which will bring a bit of Punjabi tadka to the small screen.
We are talking about Esselvision's new venture, Tashan-e-Ishq, which stars Jasmine Bhasin, Zain Imam, and Siddhant Gupta.
Recently at the press meet of the show, we got in touch with the female lead Jasmine, who marks her debut on TV with this show. She spoke about herself, her role as Twinkle, and more…read on:
She shared, "My character Twinkle is a very bubbly and fun-loving girl. She is a typical Punjabi kudi and a complete drama queen."
Why did you choose to debut with this show? She said, "I took up this show as it's not a typical saas bahu saga that has conspiracy and rono dhona. When I heard the script, I thought this was it. The role is very different and will be an entertaining one for the viewers."
Tell us little bit about you? "I am born and bought in Kota, Rajasthan. I did my graduation in hospitality in Jaipur. Later, I have worked in Taj Palace in Delhi. Then I started getting offers in modelling and did many Tamil and South films. Now I am here talking with you'll!" she said.
How did acting come your way? "I always wanted to be an actor and my parents were happy with my decision. Not being from theatre or film background, I had little work to show for. But I believe in spontaneity and not method acting," she quipped.
How is it working with senior actors? "I am happy to be working with Vaishnavi mam (Mcdonald), who plays my mother and I have a lot of scenes with her. Hence, we gel very well and I get to learn a lot from her," she beamed.
How does it feel to be a part of a TV family now? "It feels great. I hope people like me as Twinkle on the show," she signed off.
All the best, Jasmine!