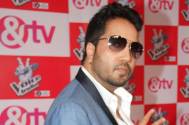 Mika Singh is a class apart, and is a favourite of all music lovers!!
Well, the coach of &TV's The Voice India recently experienced a glimpse of his soaring popularity when he was mobbed when he was entering the studio to shoot for the show.
As per sources present when the incident happened, "Mika was getting into the studio when to his surprise, he got surrounded by a huge group of fans, seeking his autographs. They also wanted to click pictures with him. Within few minutes, the crowd got so big that there was no room for Mika to avoid the crowd and get inside. The security had to immediately come to the rescue, and help Mika get in by dispersing a section of the crowd."
Well, Mika must be used to such appreciation. The Voice India premieres 6 June.