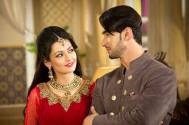 Now this is definitely a dhamakedar twist!
The twist that viewers had been talking about will finally air in the coming episodes of &TV's Adhuri Kahani Hamari (4 Lions).
Well, we couldn't control our excitement when a source gave us the news that Maya (Suhani Dhanki) and Madhav (Laksh Lalwani) are all set to get married!!
Yes, you heard it right.
Shared a source, "In the coming episodes, Maya will get Manu (Mahima Makwana) chained and locked up while she will cast a spell on everyone through her black magic. Everyone will start preparing for Madhav and Maya's marriage forgetting all that happened."
Meanwhile, Maya will plot a vicious plan in the jungle so that Manu can't enter the mandap. Manu will try her best to stop the marriage where she will fight with Takshika (Juhi Aslam) and other Ichhadhaari naagins to get in the mandap. And to help Manu, a tiger (animal) will come and fight with the naagins.
However, even after all this, Manu will fail to stop the event, and Maya and Madhav will successfully get married.
We wonder how Manu will take this development, heartbroken she will be for sure. Don't you think so?
We tried reaching the actors but they were busy shooting.
Stay tuned as we will get more updates about this story!