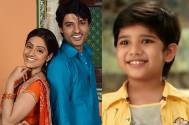 The innocent lie of Ved in Star Plus' Diya Aur Baati Hum (Shashi Sumeet Productions Pvt Ltd) has surely caused a lot of drama in the last episodes. And now finally the revelation of the lie will happen shocking the entire family.
With the family coming together to celebrate Ved's birthday, his friends would be excited to meet hotelier Sooraj (Anas Rashid), his successful entrepreneur father, as boasted by the young boy.
Shares a source, "The family will be seen making all their efforts to make the party a grand one, when suddenly some friends will utter his dream to meet Sooraj."
When Sandhya (Deepika Singh) will gather Ved's friends and introduce Sooraj to them, they will be in for a shock to find that Ved had lied about Sooraj's identity.
With Ved's friends making fun of the 'halwai' father, Sooraj would be left shocked and shattered. Sandhya who has been proud of her son all these while, will suffer a major setback with this revelation. The couple would be upset getting to know that their son is actually ashamed of his dad.
How will Sandhya manage to build back Ved and Sooraj's relationship?
We tried reaching Deepika but her phone was unreachable.