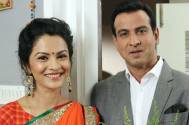 The mature love story of Indian TV, Itna Karo Na Mujhe Pyar on Sony TV, is a hit with the audiences for many reasons. From the cool cast to the engaging storyline, it has many things to offers us. But apart from the entertainment factor, there's a bunch of things you can learn from the show as well. Here are five life lessons that the show teaches you…read on:
It's real and relatable:
The lead pair's love, which has seen ups and downs, is relatable and real. Sometimes, two people grow apart not because their love has died, but due to unforeseen circumstances and situations. That's exactly what happened with Neil and Ragini. Even though their love for each other is strong and their feelings intact, they had to walk away from each other in order to come together later.
Because kids are everything:
Despite your minor altercations, you're ready to overlook your partner or spouse because you know how important the right upbringing of your child is. Your personal matters should never reflect on the child. Neil and Ragini put aside their differences to make their daughter's wedding an epic affair. They made sure that their precious little princess had both her parents present on her big day. Isn't this a major life lesson to be learnt from the duo?
Reinstating our faith in marriages:
Marriage, as an institution, is slowly losing its sheen. People are running away from the whole 'commitment' business as it invariably ends up in break ups. But this show aims to reinstate our faith in the institution of marriage. As the story follows the love of a couple, separated for fifteen long years, but together at their daughter's marriage. If we wish, we can make the wrongs right. Isn't it?
You're parents before husband-wife:
The crux of the show is that divorces happen between a couples and not between parents and children. It's an important thought because parents forget that their kids need both the father and the mother to grow up fine. This show emphasises this without overshadowing the core issue of 'rediscovering love'.
What lessons did you learn from Itna Karo…? Share with us in the comment box below.