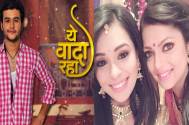 Zee TV's Yeh Vaada Raha (Trishula Productions) and Ek Tha Raja Ek Thi Rani (Sphere Origins) will have a maha sangam episode this Tuesday (29 December) wherein the past life of Karthik (Ankush Arora) and Survi (Sonal Vengurlekar) will be opened up.
Yes, you heard it right!!
The episode will have an intriguing story line with lot many twists in the tale. All will begin with Survi going to Amerkot in search of a job.
Meanwhile, the mansion of Ranaji would be turned into a hotel. And Rajmata (Anita Raaj) will show Survi an old picture of a princess, who would exactly look like Survi. Kartik on the other hand would be a guard in her kingdom.
And then will roll the mystery-laden flashback track wherein it will be revealed that both Survi and Karthik would have been lovers from their past life too. The maha sangam episode will later depict the sad end to their love story when the lovers will be killed.
Survi and Kartik will take love lessons from Ranaji and Gayatri, and both the couple will be seen sharing romantic moments.
We have also heard that Survi and Gayatri will dance together on the popular track, Aayo re maaro dholna.
How will the past life affect Survi and Kartik in the present?
We tried calling Sonal, but did not get through to her.
Watch for the engrossing track in the Mahasangam episode