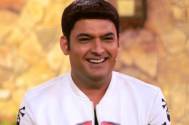 Kapil Sharma will infuse a comical element into the upcoming 22nd Annual Star Screen Awards as its host. For the past three years, the event was anchored by superstar Shah Rukh Khan.
Viewers will get to see Kapil stepping into the shoes of the "Dilwale" actor while bringing in his own "fresh" style to increase the entertainment quotient of the event.
"He (Kapil) has been attending meetings and has been going through a lot of scripts of late. The comedian is not leaving anything untouched to make his act as the host one of the most memorable one. In fact, Kapil is trying to re-tune his patent style of comedy and is working on something new and fresh," said a source.
The 22nd Annual Star Screen Awards, which will honour the best of films and film talent from Bollywood, will take place in the first week of the New Year here. The show will be aired in the last week of January on Star Plus.