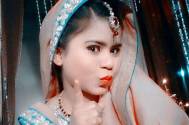 Star Plus' Siya Ke Ram (Triangle Films) took viewers back in time beautifully with the grand swayamvar of Ram and Sita. This magnificent show is truly a delight to watch on small screen.
After an extravagant wedding, it's time for the show to move forward and bring a conspiracy angle.
The show will soon have a new entry in Juhi Aslam (Baba Aiso Varr Dhoondo) who will play the assistant of Manthara (Sanyogeeta Bhave).
For readers, Manthara was the one who convinced Queen Kaikeyi that the throne of maharaja belongs to her son Bharata and that her stepson Ram should be exiled from the kingdom.
We tried reaching Juhi but she remained unavailable for a comment.
The lady has already begun shooting and her entry sequence will be aired in days to come.