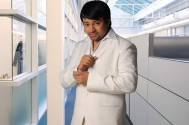 Actor Ankush Bali of Jai Gangajal fame is the next celebrity to have gone in for a name change.
From now on, his name will be spelt as 'Ankkush Bali' with an extra addition of letter 'k'. The actor who is known for his roles in TV shows like The Buddy Project, Na Bole Tum Na Maine Kuch Kaha, Beintehaa gives his reasons for succumbing to the name-change trend.
Says Ankkush, "I changed the spelling as a family friend suggested that it will be helpful for my career. According to numerology, it will be more suitable."
On his views on numerology, he explains, "Everything has some science in it. And if anyone finds benefit in it, what is wrong? I have changed my name now. But everything takes its own time. So I will wait patiently for things to work out better for me."
Speaking more on his name, the actor says, "Ankkush means someone who knows of controlling or putting a full stop to things."
May you get all success, Ankkush.