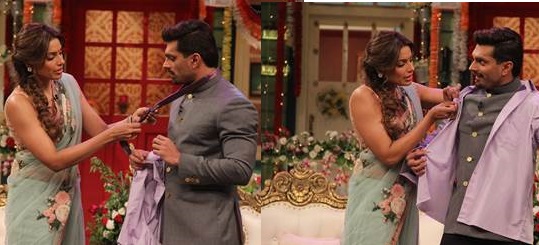 Look for the answer below…
This Saturday, it's going to be a lavish wedding bash on the sets of The Kapil Sharma Show. Bollywood's hottest newly-married Jodi Karan Singh Grover and Bipasha Basu, who made their first public appearance together on the show were welcomed by Kapil and team in a grand manner. The gang left no stone unturned to ensure that the duo had a gala time on the set, which was beautifully decorated with lights and flowers just for the couple.
While Karan and Bipasha shared interesting anecdotes from their wedding and honeymoon with Kapil, a member of the audience decided to test Bipasha on her wifely skills.
Yes, that's right!
The Bengali beauty was asked by an elderly female fan to do some regular household chores that wives usually do. She was first asked to sew a button on a shirt. While she admitted she had never stitched anything in her life, the gorgeous actor sportingly gave it a shot as her husband looked on amusingly. While she did manage to sew the button, she had also stitched the seams of the shirt with it.
Next, she was asked to tie a tie on Karan. As she tried hard to remember the tricks she used during her school days, Bipasha tied the tie inside out. Karan was seen teasing her endlessly while everyone had a good laugh. The two looked adorable as they engaged in some funny banter.
WOW! It sheer seems to be a fun filled episode with this lovely Jodi on the show!
Are you excited for the newly-wed couple's first appearance together on TV? Do comment below…