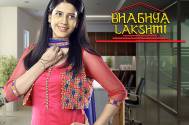 Simran Pareenja is the new buzzing talent on the small screen. Her acting debut on &TV's Bhagyalakshmi (Rashmi Sharma Productions) has been well received by the masses. She has definitely carved an image of a sweet, simple and caring lady via her on screen avatar.
In a candid chat with Tellychakkar.com, Simran aka Bhoomi, speaks about all things close to her heart…read on:
How does it feel when audiences appreciate your character?
An actor's true recognition is when he/she is appreciated for his/her work, and this is what I am experiencing these days. It is very encouraging to get accepted as a good actor. The love that I have received from the audience is the biggest honour I could have asked for. I am on top of the world as appreciation motivates me.
What do you think are your strong points as an actor?
I am able to understand the psychology of an actor, the script and other characters around me. I memorize difficult and lengthy dialogues like a parrot, so I think that is my advantage.  I am also good at emotional scenes. I can easily play a shy and scared girl, but being bubbly is difficult for me.
Have you made any friends on the set?
I have made many. I am friends with my co-stars Lata mam and Varun Sharma, who are like a family. I also respect them a lot. We have a lot of fun together on the sets. We also pull crazy pranks on each other.
Any reality show you would want to participate in?
I am not at all a Bigg Boss kind of person. I would love to be a part of dance reality shows. I would like to rock the Jhalak stage. For Nach Baliye, I need to find a baliye first (laughs).
Any TV personality you are inspired by?
For me, actors like Divyanka Tripathi and Sakshi Tanwar are an inspiration. I still remember I used to look up to Sakshi and her personality from Bade Achhe Lagte Hain. Divyanka is a very humble and down to earth person and these two women are truly the strongest television personalities today.
If given chance, which historical character would you like to portray?
I am really not too keen on playing historical characters. However, if I am offered such a role I won't refuse it. I would love to play Anarkali because that'll suit my character.
Are you open to essaying a negative role on-screen?
I never thought of doing negative roles but I don't mind as long as the role is meaty. I believe an actor should taste whatever comes their way as this makes them different from others.
Any message for your fans?
I want to thank them for their love and support. Thank you for appreciating the show and accepting us as your family. I also promise to keep you entertaining.
All the best, Simran.