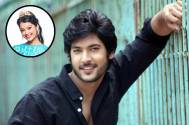 Some relationships are for life!
Actors Shivin Narang and Digangana Suryavanshi, who played siblings in Ek Veer Ki Ardaas Veera, interestingly shared a similar bond off screen too.
With the two becoming thick friends and each other's confidant, Shivin is rooting for Digangana, as she makes her presence felt in the ninth season of Bigg Boss 9 (Endemol & Colors).
"I think she has a great chance to win. I actually messaged her before she went to the house. I am very happy for her. Digangana is an intelligent, funny and bubbly girl. I am sure she will maintain a joyful atmosphere inside theBigg Boss house. I wish her all the luck," he said.
When we asked if he gave any tips to her, Shivin smiled to say, "I can't give any tips as I have never been to the house and neither have any idea about it. I wished her all the best and told her to enjoy her time."
Will you ever do a reality show, "To be honest, I don't want to do any reality show; as it doesn't interest me much. As for dailies, I am waiting for something good to come my way. Hopefully I will be back soon."