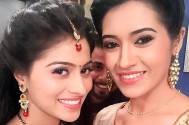 Love and jealousy are surely two sides of the same coin.
And soon it will be proved from Devika's (Aparna Dixit) action in Life OK's daily Kalash (Balaji Telefilms).
Those who are getting eager to know what will Devika do, we are providing the minute details for them here.
A source revealed, "In the party Nivedita (Parakh Madan) will spike Devika's drink with the intention to make her stay away from Ravi (Krrip Suri), so that she can have some good time with the man. But, her plan will backfire on her, with Devika confronting her in a drunken state. In an intoxicated state, envious with Nivedita giving much attention to Ravi, she will confront the lady about trying to be too friendly with her hubby dear, Ravi. She will blurt the truth that Nivedita was the one, who pushed her in the swimming pool on the day of Karwa Chauth".
Oops, not a pleasing confession lady.
Though Nivedita will try to mislead Devika, the latter will be adamant that Nivi was the real culprit.
Oh no, so how will Ravi react when he will get to know about Nivedita trying to kill his wife?
If you want to know about that, keep an eye on the daily.
Though we tried to know about Aparna's experience of shooting the sequence, the lady remained unavailable.