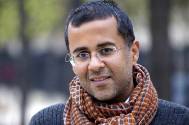 Author Chetan Bhagat on Monday criticised the government's decision to make porn sites inaccessible in India, and called it an "anti-freedom and impractical" move.
"Porn ban is anti-freedom, impractical, not enforceable. Politically not very smart too. Avoidable. Let's not manage people's private lives," Bhagat said on the micro-blogging site Twitter.
As per reports, most internet service providers — including Vodafone, MTNL and BSNL — are showing blank pages instead of porn sites. The matter came to the limelight late on Saturday, when a number of internet users across the country could not access pornographic websites.
Bhagat further said that instead of banning porn, the government should "ban men ogling", "molesting", and "raping women".
"Don't ban porn. Ban men ogling, leering, brushing past, groping, molesting, abusing, humiliating and raping women. Ban non-consent. Not sex," he wrote on Twitter.
Filmmaker Onir too shared a post on his Twitter page against this ban.
"Would #Kamasutra books be banned for propagating #Unnaturalsex ? #pornban", he wrote.
Earlier on Sunday, filmmaker Ram Gopal Varma loathed the move and said "depriving consenting adults" of watching porn is equivalent to what "Taliban and ISIS is doing to freedom".
The hashtag #PornBan became a top Twitter trend on Sunday morning. Now, #NextBanIdea is trending on the social media site, with many users posting sarcastic tweets as to what the government should ban next.
"Dear politicians, why the idea of banning corruption never crosses your mind," wrote a Twitter user, while another Twitter user said: "#NextBanIdea Elections! Democracy already seems dead."