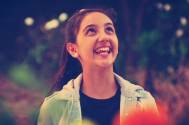 Ashnoor Kaur, the cute and bubbly Naira of Star Plus' Yeh Rishta Kya Kehlata Hain (Director's Kut) is excited as she will be starting a new academic year at school soon.
The girl who will be getting into Class 8, feels that even though acting is her passion, she needs to concentrate more on her studies as she is getting into higher classes now.
Ask Ashnoor about her future plans and she says, "Well, I have had a splendid journey with Yeh Rishta. As far as studies are concerned, I have never compromised on it. My schools will be starting soon, and that will be my first priority."
Talking about her sweet Yeh Rishta journey, the young actress states, "It has been fabulous, and I have a lot of sweet memories. I have got to work with some wonderful people. I have in fact got my brother in Naksh bhaiya (Rohan Mehra), and I tied Rakhi to him in real life too. I am also very fond of Naitik bhaiya (Karan Mehra) and we keep playing on sets. It is simply amazing to be showered by compliments when you do a good scene."
Well, if the buzz of Yeh Rishta Kya Kehlata Hain taking a 10 years leap comes true, that will mean Ashnoor will have to make way from the show. Ask her about the possibility and she quips, "We have not been informed about it. But if it happens, I will be very sad. I have made quite a lot of relationships on the set, and will miss being with all of them. However, life has to go on, and I will be fine with it if I have to leave the show."
Ashnoor claims that Yeh Rishta will be her last TV show, at least for now. "Well, I will want to devote as much time as I can after Yeh Rishta to my studies. So I will not take up any more TV shows. But I will not completely cut off myself from the industry. I will want to do commercial ads and movies. I will be back on TV probably after 5-6 years, as a grown-up."
As for now, Ashnoor is happy that she will be yet again packing her bags and going to school…
Have a great year ahead Ashnoor!!