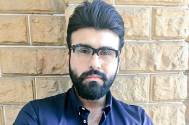 &TV's popular horror show Darr Sabko Lagta Hai has been entertaining viewers with some spine chilling tales. Produced by Reel Production, the episode will feature Aarya Babbar in lead role.
Shared a source, "The tale will focus on a physiatrist, Doctor Ashwin Sood. He will be working in an asylum, and evaluating a court case involving a psycho patience. How he would help the girl will be for viewers to see."
Talking about his experience Aarya shared, "I am very phattu when it comes to ghosts. I have never watched any horror show or movie in my life. It was a freaking experience for me. I was really scared when I was doing the scenes, and my director luckily got all the perfect expressions (laughs). My friends were actually shocked when they got to know that I am doing a horror show."
"The reason behind taking up this show is that I wanted to work with &TV and the production house. And the most important thing is that the story was very different," signed off Aarya.
Wish you loads of luck Aarya!!!