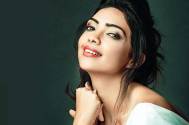 The sexy and suave Pooja Banerjee of Channel V's Swim Team has represented Maharashtra at the national level swimming tournament.
The actress has been passionate about swimming since her childhood. So it came as no surprise when she was chosen to play a swimmer, Rewa, on the above show. The gorgeous lady knows all the tricks and tips of swimming. And here are 5 tips from her to swim like a pro…take a look:
Be flexible and love the feeling of being in water
One should not worry about being in water. This way, you will get out of your phobia and become flexible inside water. Make sure to always keep your body loose. The more relaxed you are, the sooner you can learn.
Maintain proper breathing pattern
Most people don't know that proper breathing pattern inside water is vital. The right way is to blow out air from your mouth, and not from the nose. Make sure your nose doesn't get blocked and you are able to swim well.
Hand and leg co-ordination
Swimming is the only sport that requires all your body parts to be active. Make sure that you focus and move your hand and leg together.
Concentrate on free style swimming
In order to get a perfect figure and height, swimming is the best exercise. I would advise fans to go for free style swimming as it helps in keeping your body toned.
Consistency
The more consistent you get, the better you would be at swimming. Try laps and different patterns every day to get a hang of it.
Like the tips? Don't forget to share and comment.